While the rest of the world is finally addressing the inaccessibility of many resources required for daily life, accessibility online still lacks. Much of this is due to the fact that many businesses still function without a basic understanding of web accessibility standards, which disenfranchises many of the nearly 61 million Americans living with disabilities
Similar to general accessibility guidelines set forth by the Americans with Disabilities Act (ADA), web accessibility is judged by the Department of Justice based on whether or not a website complies with the technical requirements set forth by the Web Content Accessibility Guidelines (WCAG) 2.0.
Web Accessibility Guidelines
Technical requirements of WCAG 2.0 are organized by levels: A, AA, and AAA.
Level A is the most basic level of web accessibility.
Level A is the tip of the iceberg and the rough equivalent of a participation award in Little league. If a website complies with Level A (and only Level A), it is likely still noncompliant with the ADA as a whole. At this level, there remain numerous barriers for people with disabilities.
For example, at Level A color cannot be used as a way to denote importance (considering the prevalence of colorblindness). Meaning a website cannot note important information solely by making the text a bold color such as red. Instead, websites must also include another means to convey this message.
Level AA, is the level that most businesses currently strive for.
It is relatively easy to meet and ensure that a business's online presence is accessible to all types of people, regardless of ability level. Here, color contrast is taken into consideration (amongst other things).
Think of it like this: Putting light text on a light background is not accessible to the 13 million Americans with visual impairments (or, frankly, anyone trying to look at a digital screen in bright sunlight).
Level AA hits all of the standards put in place by Level A (plus some!) while still allowing for a broad range of flexibility when it comes to aesthetics and design.
The highest tier, Level AAA.
This standard meets the requirements for all conformance factors in the most complete way possible. That said, this level of web accessibility comes with restrictions concerning key interactive and design elements which limit the overall functionality. Because of this, few websites meet Level AAA web accessibility standards.
To get a better understanding on what is part of each of these levels, check out the chart to the right. Keep in mind that these are not all of the web accessibility guidelines, simply a brief example of how the levels of accessibility are different from each other.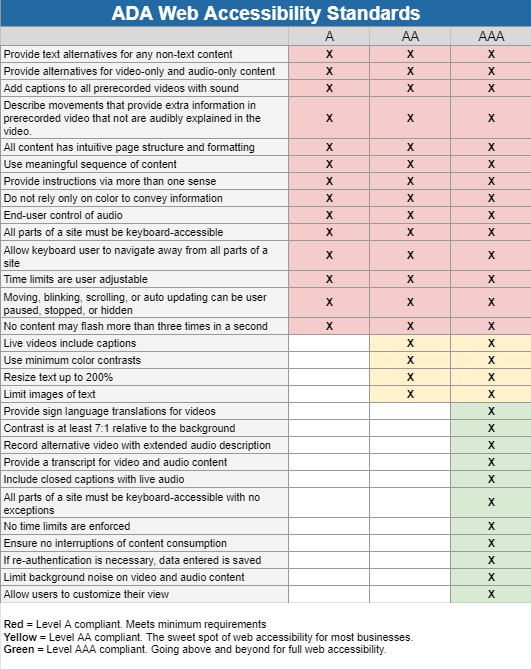 Why is web accessibility important?
Keeping up with ADA compliance standards is critical for internet users with disabilities as well as for businesses. If your website doesn't hit the mark on web accessibility standards, users (and you) are missing if it is impossible to interact with your business online.
Not sure if your website complies with web accessibility standards? We're here to help.