If a wonderful blog is written and no one reads it, does it even matter? In the digital era, writers are pondering this new take on the age-old tree falls in the forest quandary day in and day out. Thankfully, experts around the world have studied and learned through trial and error what components are crucial to getting your work on the top of search engine result pages (SERPS).
Search engine optimization (SEO), or the practice of improving your visibility in organic search results, is a massive field. A great place to start is with an on-page SEO checklist. By checking and double-checking that these seven basic SEO pillars are complete and optimized, you can increase the chances that someone will actually read what you're writing online.
Before we dive in, it's important to note that while there are a variety of different areas and approaches to SEO, we will be solely focusing on on-page SEO. For context, however, here's a quick rundown of other categories of SEO for you to explore so once you complete your on-page SEO checklist, you can build a list of other SEO priorities to increase your overall site visibility.
Types of SEO to Know
Technical SEO
This type of SEO is related to server and website code optimization. Common practices in technical SEO strategies are fixing or removing broken links, adding alt text or descriptions where missing, and focusing on Core Web Vitals — which heavily favor user experience (UX) and site performance. Technical fixes are often focused on helping search engine spiders crawl and index a website.
Note: As many technical SEO errors are invisible to the user, the best way to get started identifying and correcting these is to do a comprehensive SEO audit. This will highlight issues with your website and help you craft a technical SEO checklist to dig into.
On-page SEO
There is significant overlap between technical and on-page SEO strategies since they both deal with website content and structure. While technicalSEO is focused on the foundation of the site, on-page optimization includes the creation and optimization of content as well as the little things that might get overlooked such as meta descriptions, alt text and title tags.
Off-page SEO
While technical and on-page SEO involve updates to your website, off-page SEO includes actions taken outside of your website to help improve your organic rankings in SERPs. The goal of off-page SEO is to get others (people, sites, etc.) to link back to your site to increase its authority on the web.
Top 7 On-Page SEO Updates to Make ASAP
1. Focus on a strong keyword strategy for your webpages
It's no secret that proper keyword research is key to optimizing your website and corresponding content. Just as SEO as a whole can be broken down into subsections (off-page, technical, and on-page), keyword strategy can be further divided.
Once you've done your research and chosen your primary and related keywords to optimize for, there are a few things you can do to help your content gain visibility.


Use your primary keyword in the URL —

This sometimes challenging goal can set you apart from others on the web. It also shows both the end-user and search engine that your page, blog, or site is

exactly

what they're looking for. Note, however, that if a keyword makes your URL ridiculously long, it might be best to cut it back as

people respond much better to shorter URLs

.




Craft headings that include your keywords —

These heavily weighted lines of text will alert spider of your website content as soon as they land on your site.




Find synonyms and LSI keywords —

Keyword stuffing is an antiquated practice at this point. Instead of trying to cram as many keywords onto a page as possible (which might actually

hurt

your rankings), search for synonyms or

Latent Semantic Indexing (LSI) keywords

to use throughout your work. Since LSI keywords are those that relate to your primary conceptually, an example of LSI keyword strategy could be something like this:

Say your primary keyword is "SEO strategy." LSI keywords to complement your topic might be, "how to do SEO," "steps of SEO," "SEO growth strategy."



2. Compelling title tags
Title tags are what show up in SERPs and tell both users and spiders what they will find when they click your link. While it is important to make sure keywords are a part of this field, more so it is crucial to use language that is engaging. Nothing else matters if you can't convince users to click on your link.
Tip: Try embedding title tag modifiers to bulk up your browser title.

3. Optimized headings
A key component of on-page SEO is making sure that each page includes important crawlable elements. Part of this is having headings, which is a must. When writing copy or auditing your website, make absolutely sure that each and every page has a Heading 1 (H1) with focused keywords. You also want to be sure to only have a single H1 on every page. Headings 2, 3, 4, and so on add value (and give you more opportunities to include keywords), but these are optional. Heading 1 is not, though it gets overlooked by many.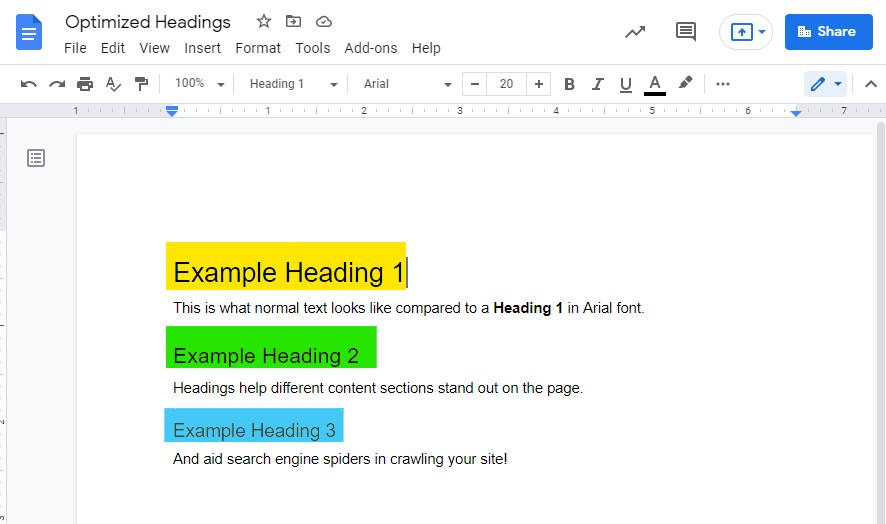 4. Compelling meta description
Like title tags, meta descriptions are what users are going to see in SERPs when searching for things related to the content you provide. Write descriptions that are enticing and engaging.
If you're stuck on what to write, ask yourself the following questions:
Does this inform users as to what the page they're about to read is about?

Is this content meaningful in a way that makes me want to read more?
5. Optimize your images
By optimizing your images and on-page visual elements (think static and motion graphics, too), you can improve the user experience — especially for users with visual impairments. As search engines get smarter, they're looking to make sure that these key components (alternate text and descriptions) appear when a user's cursor hovers over an element.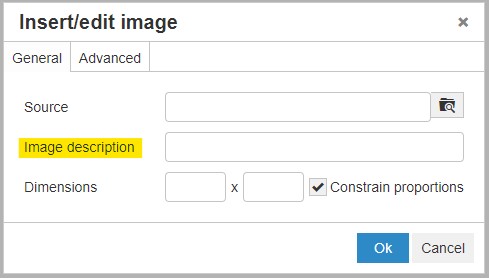 6. Add Schema markup
According to SEO giant, Semrush, "Schema markup (schema.org) is a structured data vocabulary that helps search engines better understand the info on your website in order to serve rich results. These markups allow search engines to see the meaning and relationships behind entities mentioned on your site."
The Rich Snippets Schema is proven to increase click-through rates making them essential for web managers trying to draw users onto their site(s).
Schema markup is frequently used to indicate whether the content users are about to engage with are:
Articles/blogs

FAQs

Products

Events

Reviews

Local businesses

People, places, or more.
7. Link building
The last thing to consider when going through your on-page SEO checklist is how your content connects to others on the web as well as on your site itself. This means, you guessed it, link building.
Link building is an entire strategy on its own. Essentially this is what creates the World Wide Web — a plethora of interconnected resources accessible from millions of different touchpoints throughout digital content through linking practices.
There are two ways to link: internally and externally. Linking internally means adding hyperlinks that direct users to other pages on your website. Linking externally is to send them to pages on other websites.
SEO Updates: Where to start
While some SEO updates are quicker and easier to make than others, creating a fully optimized site is an ongoing process. A good place to start is the technical SEO elements. If your technical SEO foundation isn't strong, then it will be very difficult for the content on your site to rank higher in search results. By the time you get to the end of your SEO checklist, it will probably be time to start back at the beginning and refresh the content and technical pieces connected to those first items you tackled.
With all this new information, you may be feeling overwhelmed, unsure where to start on your SEO checklist. Finding a trusted, experienced partner to work through it all will make a world of difference. And, hey, we just so happen to know a team of SEO professionals ready to help.