The project for Erie Federal Credit Union involved a lot more than just basic website development. While building a website was the first part of the process, Epic Web was also tasked with marketing the organizations myriad products. After performing due dilligence, we determined it would be best to start with three flagship products: home loans, auto loans & consolidation loans. There are literally hundreds of factors that go into making a successful brand thrive on the web. Every aspect of the organization was taken into consideration when developing a plan that worked for EFCU. Successful websites are a lot more than just putting words and photos on a webpage. You've got to cover all bases, from unique content creation and customer feedback to analytics, ad planning and more.
Before working with Epic, ErieFCU had a presence on the web that was not conveying the breadth and depthe of the organization. They decided it was time to get serious on the web and brought in Epic Web to change the way things are done online. We started with task number one: build a home on the web that traffic can be driven to for anyone looking to purchase a loan. The following images are examples of what we developed to cultivate those leads.
Please click each image for a full size view.
Month 1: Erie Federal Credit Union tells us their story. Epic Web begins in-depth research on the history and current make-up of the organization. We learn everything. Product Line, History, Clients, Key Influencers, Business Model, and more. Essentially, we want to be trained as if we were a new-hire in the executive offices.
Month 2: Epic Web's Web Development Media Team begins to build out a "sitemap" & "wireframe" of what the website will look like. Visualize a sitemap as a family tree, and a wireframe as a website design of blank boxes to help determine the overall layout of the website. By planning this in advance, it ensures far less confusion down the line. In addition, Erie Federal Credit Union management has a clear expectation of what they are going to receive.
Month 3-4: Epic Web begins to develop a mockup of what the website will actually look like. This is when things start to get exciting, because there is actually something to view! Colors are added, initial imagery is chosen, and the rough draft of desired language is being written.
Month 5: Coding begins. All of the hard work that was being developed on the front-end is now being hooked into the most important component to the website, the back-end (also known as a Content Management System, or, "CMS"). The project is now coming to life. Menu items become clickable, imagery is placed accordingly, and the text is becoming optimized for search engine visibility.
Month 6: Time for launch! After very careful review by the Epic Web Studios project managers, as well as ErieFCU admins, the system goes live. To accompany the website launch, Epic Web had their digital marketing team involved with some online advertising components to help drive initial traffic and boost leads. In addition to a social media campaign on Facebook and Twitter, Erie FCU was also interested in running some display advertising through Google. These ads appeared directly in search results for individuals in the Erie region interested in the three aforementioned areas, home, auto and consolidation loans. We've listed a few of the day-to-day tasks involved in keeping the online marketing program alive & you can see some examples of the ads below.
Write fresh content (posts, photos, contests, videos, trivia, etc).
Develop strong digital advertising that is not invasive, but complimentary.
Adjust those ads based on the analytics we receive.
Actively listen to what's being said about EFCU around the web (through Google Alerts, Twitter & other softwares).
Report back to EFCU management & ask questions whenever needed.
Take every possible measure to ensure EFCU is always top-of-mind.
Eric Brotherson, Director of Marketing Intelligence at EFCU has this to say about working with Epic Web Studios:
"We loved working with Epic Web. They were very good at teaching our management team baout how to best position EFCU on the web, and they made the process much less complicated. David Hunter, Shaun Rajewski and the other developers on the team were able to break everything down into simple terms that made sense to everyone involved.

We've also had fantastic results with our online marketing campaigns. They've given us the tools to thrive on the internet for many years to come. Thanks Epic Web Studios."
Here's what things look like for EFCU today:
Significant jump in website traffic of over 25% monthly
Roughly 35 new loan inquiries per week, online
Ability to confidently expand into additional business lines
Online Marketing often:
more cost efficient than old-school, outbound marketing.
better at building long-term customers rather than short-term sales.
capable of giving your brand the visibility it deserves.
Why fight an uphill battle bringing people to your website?
Engage with them where they already are!
Epic's strategic digital marketing team provides a solution to the limitations of a traditional marketing process. Digital strategy is critical to building a more effective approach towards marketing for your own business.
The choice is yours, Gray or Blue: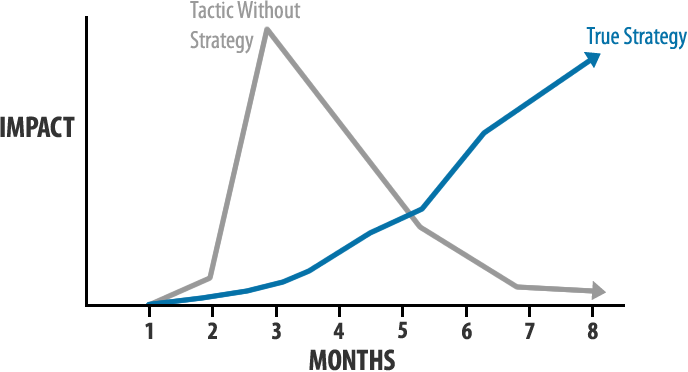 Are you:
If you have answered YES to any of these questions, call our offices and speak with David Hunter at 814-746-6987.